So you're driving down the road minding your business when some moron, no doubt in the employ of S.P.E.C.T.R.E., cuts you off in traffic. Your hand immediately reaches for the center console lid which covers the controls of your arsenal. You flip up the lid, but... instead of finding your choice of machine guns, bumper-rams or a water canon, all you find is a packet of tissues, a few sticks of gum and that John Travolta CD your Significant Other gave you to listen to, oh, maybe five months ago...
"What happened?", you wonder. You remember watching all those wonderful Bond films and thinking how good you would look behind the wheel of one of those great driving machines.
But somehow in this practical world of Taxes, Shopping at Meijer and "laundry night", you just never actually got around to purchasing one of the autos you'd admired being driven by (start Bond theme) BOND, James Bond. Agent Double-Oh Seven. That gentleman secret agent with a licence to kill.
Find here a short overview of Bond cars as good as my little vehicle knowledge allows.
DR.NO
Dr.No places the sporty SUNBEAM ALPINE into James Bond's world. Years before the Aston-Martin DB-5 and Lotus Esprit became synonymous with 007, James was evading the baddies and doing it in style in this convertible two seater.
Goldfinger
The classic Aston-Martin DB-5. Generally considered to be the most beautiful of the DB-4/5/6 series this car was an updating of the DB-4's gorgeous body work designed by Touring of Milan along the "Superleggera" (superlight) theme of hanging lightweight aluminium panels over a steel tubular frame. The car had a decidedly "English" character to it. It was more muscular looking than its Italian brothers, achieving a perfect balance between elegance and strength. The major exterior change from the DB-4 are the cowled and faired headlamps
Bond drove the Aston-Martin DB-5 in the films Goldfinger, Thunderball, and Goldeneye.
THUNDERBALL
In the novel Bond sported his 1954 Bentley Continental R. This is the same car he has in the novel "On Her Majesty's Secret Service".
YOU ONLY LIVE TWICE
The Toyota 2000. Bond never actually had a chance to drive the car. It is the stylish white convertible driven by Tiger Tanaka's agent, Aki.
DIAMONDS ARE FOREVER
Bond drives a 1971, Ford Mustang Mach 1.
THE SPY WHO LOVED ME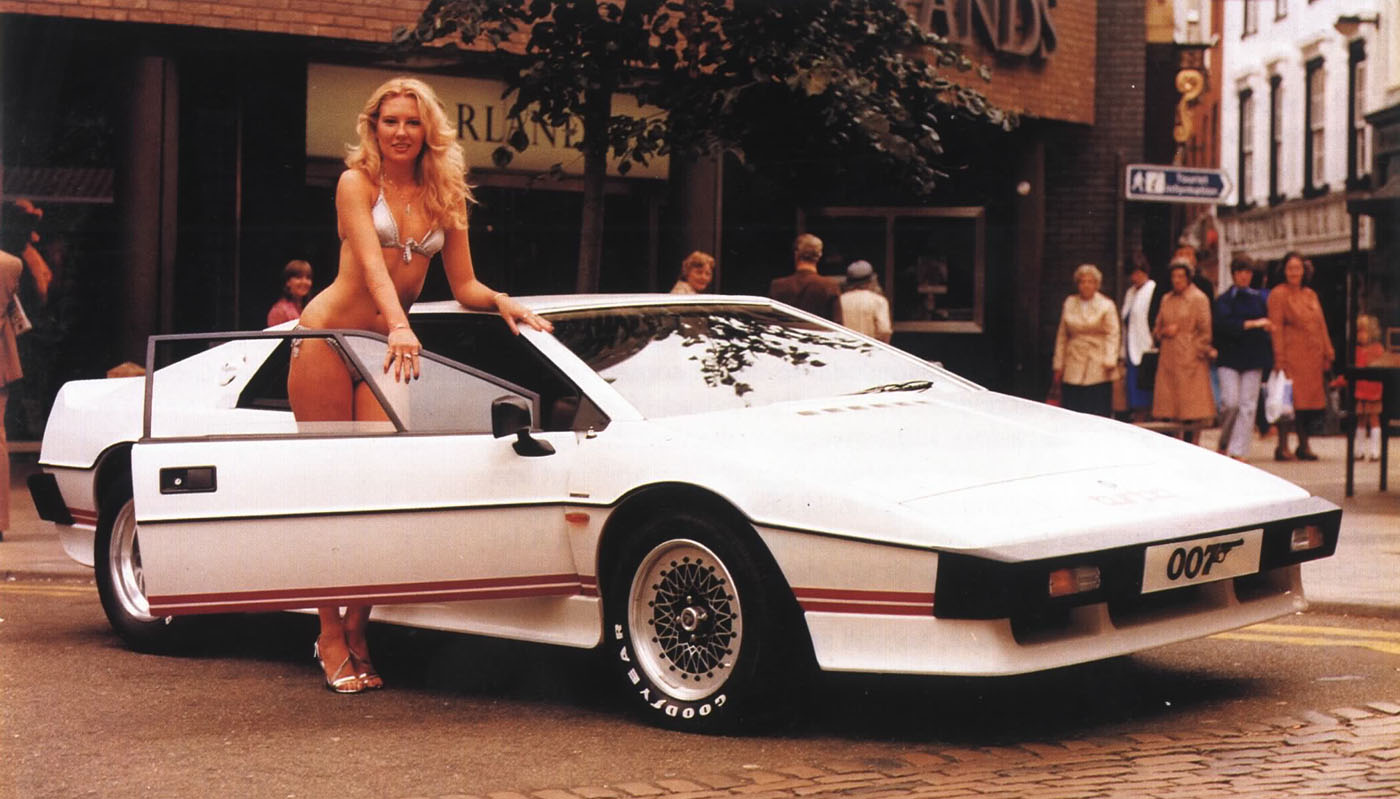 The famous automobile designer Giugiaro produced the stunning LOTUS ESPRIT as a concept car in 1972, but it wasn't until 1977 that it became "the stuff that dreams are made of" when it appeared on the screen in the hands of James Bond.